Northwest Florida's "Best Kept Secret" Is Out.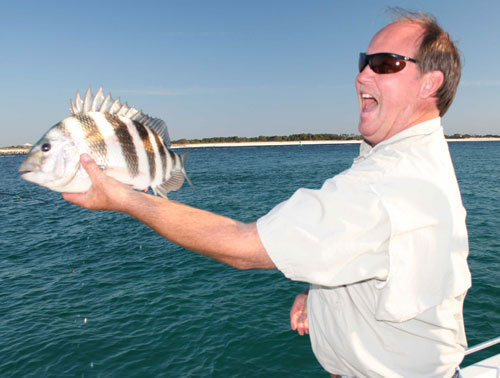 HELLO! My name is Captain Terry McGowen. I am the Owner and Coast Guard Licensed Captain of REEL FUN CHARTERS. My boats are docked at Treasure Island Marina, Panama City Beach, Florida.
A quarter of a million people come year after year to Panama City for bountiful fishing excursions, to play in emerald green waters and sugar-white sand on the "World's Most Beautiful Beaches", and to see the local sights–all of which are in close proximity to my boats.
Over the last 20 years I have captained several charter and private boats—a 41 foot Hatteras, a 50 foot Sports Fisherman, and a 54 foot Bertram to name a few. I am familiar with waters from Louisiana to the Bahamas. I have piloted boats from the East and West Coast of Florida to the Bahamas during the winter.
Not only am I an expert in Bay and Gulf Light Tackle Fishing, I am also an experienced, aggressive deep-sea tournament boat captain who is knowledgeable and specializes in near and offshore game and bottom fishing. During Billfishing season, I am often requested to captain private boats, as a number of the boats I have captained have placed in major tournaments.
My services are also often requested by Treasure Island Marina to pick up and deliver newly purchased pleasure boats and yachts and to teach new boat owners fishing and boating techniques.
I have been a speaker hosted by Sport Fishing Magazine's "Learn from the Experts" seminar held at Gulf Coast Community College. I have been interviewed and appeared on the local Red Holland TV fishing program as an expert who can put you on the "right spot", and I have been featured in the local newspaper.
The fishing is great year-round!
In 1995 I decided to begin my own professional fishing guide business. I own and operate a 23-foot Correct Craft center console boat and an 18-foot Pro Craft flats boat. The word is out—I am not only well known and respected by the locals for my fishing expertise — I have return customers who are well pleased with my fishing capabilities. (The Pictures page on this site has sample photos of catches, but when you are in the area, I encourage you to stop by and browse through the fishing album to view more photos of successful fishing trips.)
Seeing is believing—"We catch fish most every day!"—a fishing trip on the REEL FUN will give you a piece of this exciting action! We catch redfish, speckled trout, flounder, cobia, king mackerel, Spanish mackerel, bonita, sheepshead, shark, pompano, grouper, snapper, sailfish, scamp, wahoo, amberjack, baracudda, bluefish, and whatever else is biting!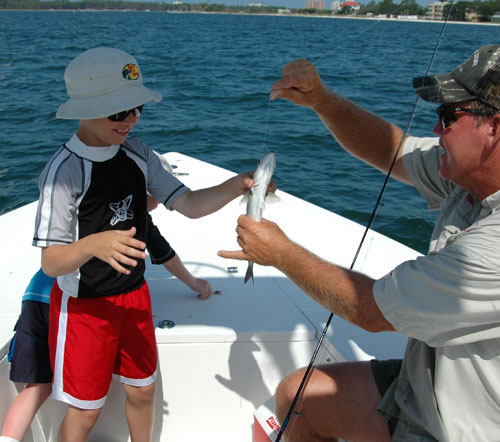 Along with using quality light tackle, we believe that a professional fishing guide who can put you on the "right spot" will provide you with a satisfying, successful fishing experience! We aim to please our customers, and will strive to put you on just the "right spot!"
I am sponsored by top-of-the-line fishing products, including Shakespeare, Greedy Gut Grubs, and the Garcia Guide Program. Many of my customers fish for the challenge and the sport of fishing. In 1996 we tagged and released a 65-lb. beautiful sailfish hooked on a 10-lb. test line, and I have caught redfish upward of 30 lbs. in the Bay!
I support the tag and release program; however, your catch-of-the-day can be cleaned, quick frozen, and shipped to your home by the marina fish market, or bring along a cooler for transporting your catch!
– Captain Terry McGowen